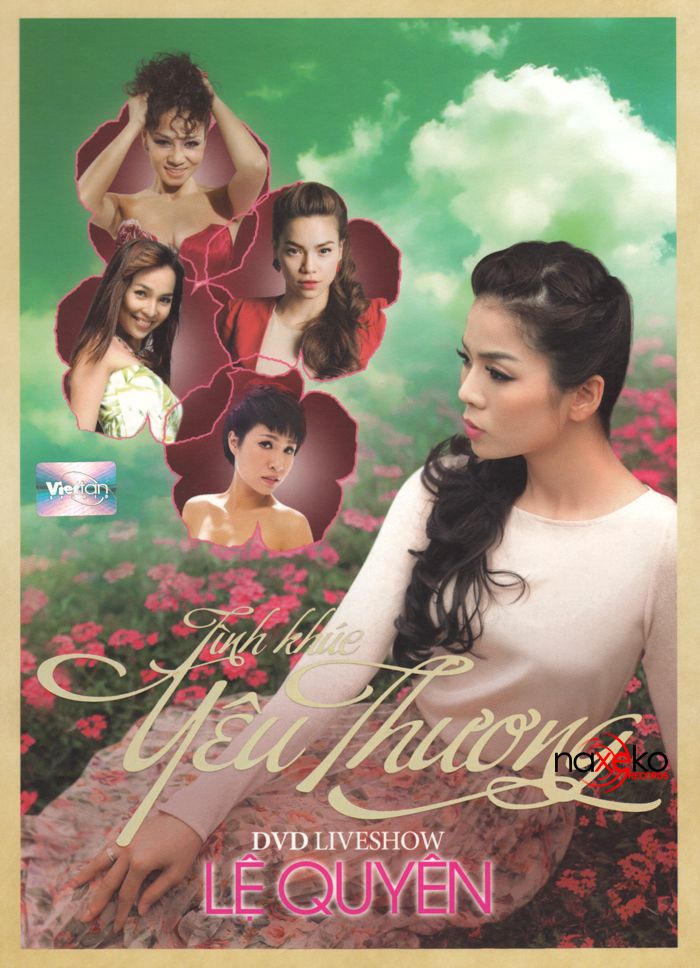 Liveshow Lệ Quyên Tình Khúc Yêu Thương 2012
Quality: MP4 DVDRip 2 DVD Download Free UpFile Zippyshare Rapidshare
Release Date: 20-11-2012
Label: Viết Tân Studio
Liveshow Tình Khúc Yêu Thương của ca sĩ Lệ Quyên được tổ chức vào 22/6 tại nhà hát TP.HCM (Số 7 Công trường Lam Sơn, phường Bến Nghé, Quận 1, Hồ Chí Minh) với sự góp mặt của nhiều nghệ sĩ khách mời danh tiếng trong làng nhạc Việt Nam.
Lựa chọn những ca khúc được yêu thích trong giai đoạn hưng thịnh của nhạc trẻ Việt Nam như Bên em là biển rộng, Dạ khúc, Biển cạn… Lệ Quyên trình bày theo cảm nhận của cô ở thời kỳ mà cô cho rằng cảm xúc đã ở độ chín với những bản hòa âm mang hơi thở cuộc sống hiện đại. Sở hữu một giọng hát khá đặc biệt nhưng Lệ Quyên cho thấy cô chưa thực sự chọn được một phong cách thống nhất cho con đường âm nhạc của mình.
Liveshow này ngoài việc giới thiệu album còn có nhiều ca khúc gắn liền với Lệ Quyên trong sự nghiệp và các phần trình diễn dành cho 4 vị khách mời đặc biệt: Thu Minh, Hồ Ngọc Hà, Hiền Thục, Uyên Linh. Đạo diễn chương trình là Trần Vi Mỹ.
Setlist DVD1
01 Bên Em Là Biển Rộng
02 Xa Rồi Mùa Đông
03 Hoa Sữa
04 Biển Cạn
05 Vẫn Hát Lời Tình Yêu
06 Chia Tay Tình Đầu
07 Con Tim Tan Vỡ
08 Dạ Khúc
09 Như Vẫn Còn Đây
10 Em Sẽ Nhớ Mãi
11 Hiu Hắt Đời Nhau
12 Lãng Đãng Chiều Đông Hà Nội
13 Anh Sáng Đời Tôi
14 Nhớ Anh
15 Để Nhớ Một Thời Ta Đã Yêu
16 Tìm Lại Lần Nữa
Setlist DVD2
01 Một Lần Cuối Thôi
02 Yêu Thương Mong Manh
03 Một Mình
04 Mái Đình Làng Biển
05 Trả Lại Thời Gian
06 Hàn Mặc Tử
07 Em Về Kẻo Trời Mưa
08 Tình Lỡ
09 Liên Khúc: Giấc Mơ Có Thật, Hãy Trả Lời Em & Thôi Đừng Chiêm Bao
10 Đêm Đông
11 Mùa Đông Của Anh
12 Sa Mạc Tình Yêu
13 Nỗi Đau Ngự Trị
– Behind The Scene

Release: Le.Quyen.Liveshow.Tinh.Khuc.Yeu.Thuong.DVDRip.x264.AAC-NHR
Size: 2DVD = 2GB
Quality: MP4 DVDRip 720×404, Audio AAC
Premium Links. You must be logged in and have 1 points to unlock it.

Download Free via Zippyshare, Putlocker, Sharebeast, Filecloud.io, Filefactory, Letitbit, Ryushare, Letitbit, Crocko, Uploaded.to, Rapidshare & Share-Online
==> DVD1 & DVD2
Like NhacHot to get information of new album release!!!!